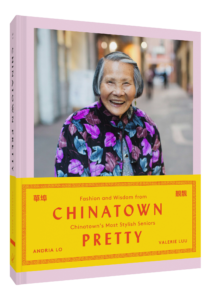 A pòh poh dons a jacket in a flowery print that screams springtime. A gùng gung wears a fedora and a butterfly tie. The smiling faces of residents of San Francisco's Chinatown and Chinatowns across the United States and in Canada grace the pages of "Chinatown Pretty: Fashion and Wisdom from Chinatown's Most Stylish Seniors," a book by Portrait Photographer Andria Lo and Writer Valerie Luu. The book showcases the fashion and heart of older Chinatown residents. Some of the models are residents of apartment homes owned by Chinatown Community Development Center, a NeighborWorks network organization.
Cathie Lam, who's worked at Chinatown CDC for nearly 40 years, came across a story Luu and Lo did on Chinatown seniors for a lifestyle magazine several years ago. That led to an exhibition and website for Chinatown CDC, featuring fashion and talking with local fashion businesses that had been disrupted by the opening of a trainline.
At the exhibit, Luu and Lo met more residents, rekindling their project. Lam, who speaks English, Cantonese and "passable" Mandarin, translated for the duo as they approached tenants about posing for the camera and talking about their lives.
They continued documenting, in San Francisco, Oakland, New York and more. "Each one is so special," Luu says. She talks about Mrs. Yang, who used to be a perfectionist, she told them. Now she has Alzheimer's, and shares that she is more carefree. "If I remember, I remember," she said. "If I don't, I don't."
They recall the New York tailor who lamented that not enough young people talk with older people. "The sunset is infinitely beautiful, but it signals the end of the day," he told them. "One day, you'll be old as well." Luu still thinks about that proverb.
Proceeds from Chinatown CDC's sale of the book – 400 copies – went to the organization's youth programming. The book itself captured community life. Older residents are a big part of that life at NeighborWorks network organizations across the country. In FY21, 184 network organizations helped 6,543 homeowners aged 62 or older purchase a home or remain in their current home. Older adults made up 19% of all clients served during the year.
Lam says she was especially pleased to promote Chinatown Pretty when the climate for Asians in America is fraught and the need to stand against hate looms large.
"We're hearing from people that it's offering a bright spot; a beacon at a time when people are grieving about the news cycle," Lo says. "Before this year, I hadn't seen it through the lens that we're offering 'Asian joy.'" But that's what they've been doing."
"What's special is that we get to think about our grandparents and our family histories with everyone we meet," says Luu, whose maternal grandmother and step-grandmother are in the book. When she approached her grandmother about being photographed, "My grandma said, 'I'm old' and just laughed. I said, 'That's the point. You're old and you're beautiful.'"
Photo Credit: Andria Lo/Chinatown Pretty
Share this: